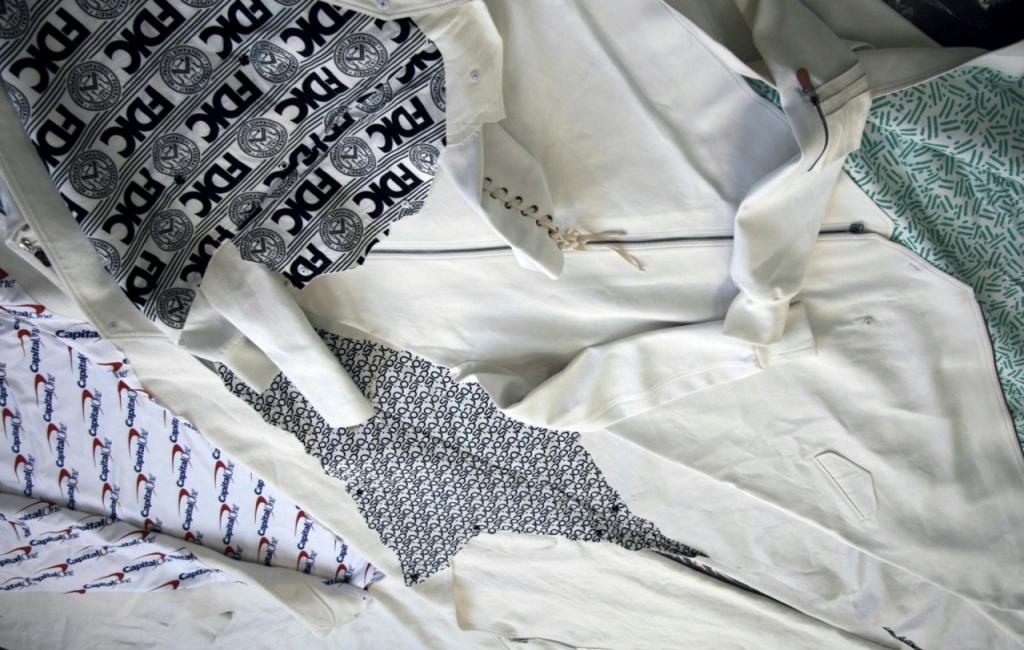 Seth Price Folklore U.S. Book Launch & Reading. Thursday, November 20, 7pm at Artists Space Books & Talks, 55 Walker Street, New York, NY 10013.
For more informations, please click here

Folklore U.S. (2012 – 2014), by Seth Price, brings together fabric sculptures produced by the garment industry, wall-hung plywood works, vacuum-formed sculptures, and a line of military-inspired clothing made together with New York based fashion designer Tim Hamilton. To varying degrees – in employing envelope interior security patterns – these works address the motif of the standard business envelope, as both container and symbol. Folklore U.S. initially debuted in 2012 at dOCUMENTA(13), where as part of the exhibition Seth Price presented his plywood works and garment sculptures. In conjunction the clothing line was launched by an evening fashion show and sold at SinnLeffers, a department store located next to the Fridericianum, historically dOCUMENTA's main venue. The 2014 publication Folklore U.S. addresses the intersection between the contemporary fields of finance, cultural critique, industry, labor and aesthetics. Folklore U.S. includes three interviews between various contributors (Seth Price and Christopher Bollen, Bosko Blagojevic and Ben Morgan-Cleveland, Bettina Funcke and Ben Morgan-Cleveland) and uses anecdotes and speculation to guide readers through fabrication processes, materials, and fashion industry protocols. Accompanying these conversations are more than 250 images that immerse the reader in the cycle of production and presentation, tracing the work from New York's Garment District to factories in South Korea and China, art galleries and German department stores. The book also includes a new text by Seth Price.
The launch of Folklore U.S. at Artists Space Books & Talks will feature a reading by Seth Price and a temporary shop, selling clothing from the Folklore U.S. diffusion line, as designed by Price & Hamilton.