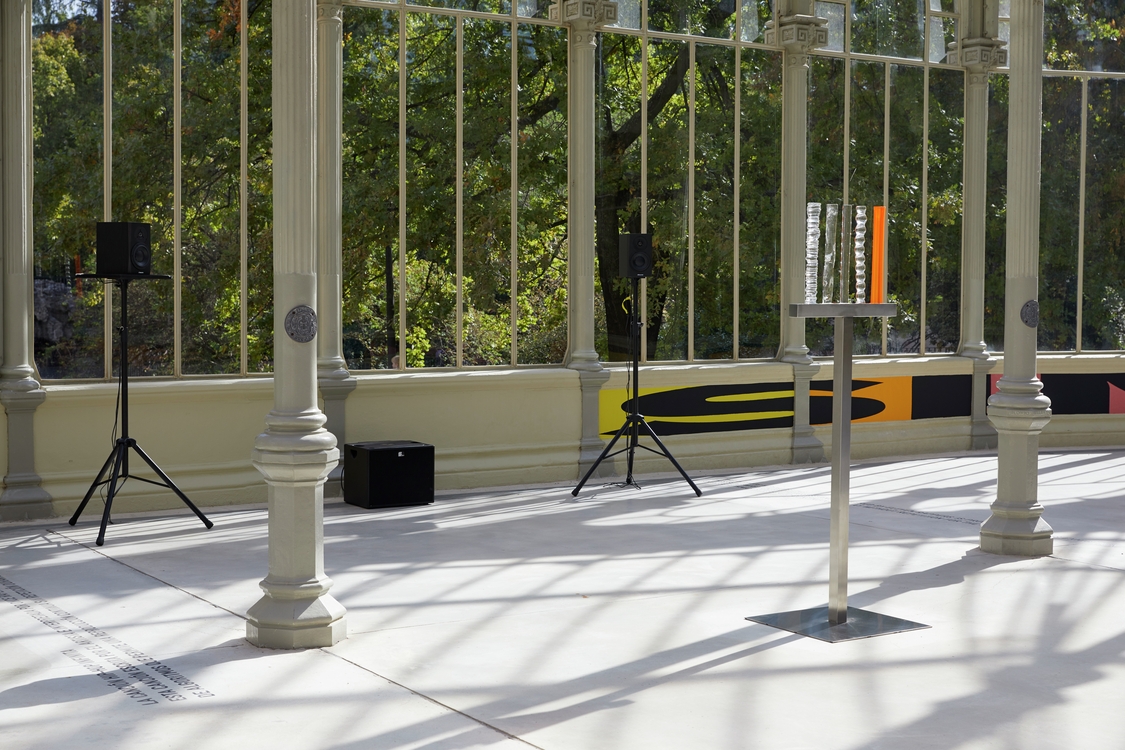 The idea behind The Infinite Hip-Hop Song (2019) was to produce a hip-hop track that never looped. An ever evolving landscape with different voices and beats but a limited amount of lyrical content. A session that ran forever without repeating but whose elements were all pre-produced and determined. To try to tame the algorithm instead of giving it full control. The piece ran non-stop 24/7 as part of The Keys to the Kingdom at the Crystal Palace in Madrid from October 17th 2019 - March 1st 2020.
Working on this piece was crazy! The scale was massive, for a long time I knew what I wanted but wasn't sure how to approach it. Then everything happened in tandem. I began by bashing out lyrics on buses, subways, in the park, on planes, in cabs, in cafes mostly on my phone with headphones on full blast. A bit of logistical tangoing and I was lucky to get Rabih Beani on board to manage the production process and Olivier Pasquet to do the computer programming. We spent ten intense days in the studio with 11 rappers of different styles, background and gender who had never worked in this way before. The hours and hours recorded were boiled down to 800+ vocal samples coded with information that provide the basic backbone of the piece. I produced the beats, bass-lines. melodies and accompaniments last, mostly in Madrid, in a feverish dash to beat tight deadlines.
Although when I was younger I wasn't a fan of the genre, three years ago I suddenly fell into it. Maybe it was the excitement, the urgent bravado; the way despair, anger and wanting things all mixed together that made sense to me at that moment. Or the sense that right behind the corner this fantasy will end and the world- grounded, real and material always lurks in wait.
This is a random 135 minute export from the session. For best results I recommend to listen to it on a good sound-system or headphones for longer periods of time because then it's cunning structure begins to become clear and, dare I say, enjoyable. You may of course jump ahead to explore different parts of it. Please do remember this is only an instance and all we need to do is to run the session again for always new and unknown results.

— Hassan Khan